Part of TEN-T Core Network
Kouvola RRT is the only Finnish railway and road terminal of the European core traffic network. In terms of international significance, the terminal can be compared to the main ports and airports in Finland.
The goal of the TEN-T network is a safe and sustainable EU transport system that promotes the seamless movement of goods and people. The TEN-T core network focuses on the most important connections and hubs. The implementation of the core network is advanced by a corridor-based approach.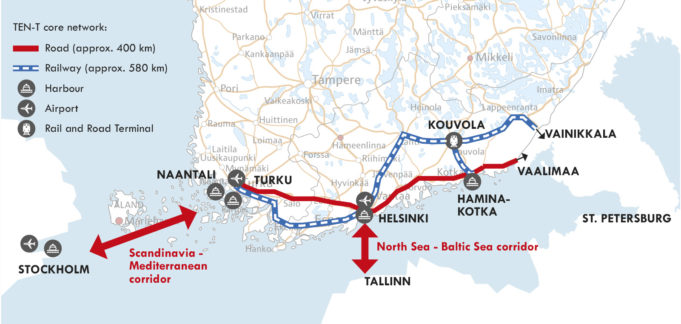 There are nine core network corridors of which Scandinavian-Mediterranean and North Sea-Baltic corridors extend to southern Finland.
European standard main link to Russia goes through Vaalimaa (road) and Vainikkala (rail).
TEN-T is an advantage
TEN-T network connects the EU member states to each other
Include all transport modes
Two level multimodal transport network
Set goals for the network infrastructure
Core network by 2030
Comprehensive network by 2050
The EU Commission funds the development of theTEN-T network
The financing has focused very much on the development of the nine core network corridors