Instruction concerning coronavirus
Information about the symptoms of coronavirus and how to prevent the virus from spreading and instructions on what to do, if you become ill.
If you need advice and information concerning the coronavirus, call 0295 535 535.
Read more about coronavirus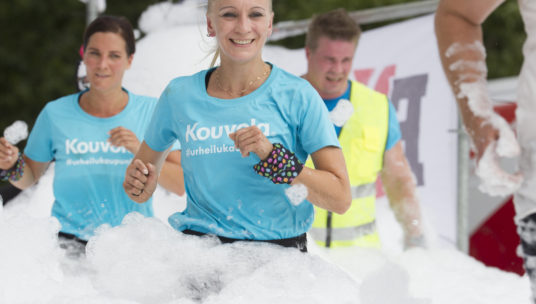 Kouvola is...
Kouvola is a city of sports, culture and nature. Popular destinations in summer are Verla Groundwood and Board Mill which is a World Heritage Site, and Repovesi National Park. Families with children should head for Tykkimäki Amusement Park and its adjacent Aquapark.
Visitkouvola.fi
The Kouvola Experience
Kouvola, your place in the world.
In the heart of southeastern areas of Finland and with the population of 84 000 the city resides next to the Kymi River (Kymijoki), surrounded by forests.
From here, you will find great views of the magnificent nature, easy going people and all the cityculture you need. In Kouvola, you can easily go for a cup of coffee in the center, live in a cityduplex or enjoy the idyllic feel of the countryside.
You will find bicycle paths, pathways in the nature to explore, local sports activities and the good vibe of things happening. You will find 450 lakes and tens of kilometres of Kymijoki riverside.
When you feel like heading outside for new experiences, you will find theatres, clubs, concerts and sports halls to choose from. The tracks from Kouvola will take you to east, south, west and north.
Kouvola is the good quality of life, being close to the nature, space and activities. Kouvola is the forest view you see right from your window, the riverside and the dark humour of the friendly locals living around it.
Best for Your Business
Kouvola Innovation Oy is a dynamic development company owned by the City of Kouvola. Our mission is to increase the vitality of the Kouvola Region by providing services for companies. We coach and engage entrepreneurs and are active in social networks which boost the local economy onward and upward.