On the Log Raft "Röllä"
Nowadays popular with paddlers, Väliväylä has once (1890-1963) served as a timber rafting route from Lake Saimaa to the Kouvola region. Timber was then transported along the River Kymijoki all the way to the Gulf of Finland. Logs ran along the Jyräänjoki river to Lake Käyrälampi. Logs were towed across the lake with the help of a log raft "röllä", because they could not be transported by the lake's non-existent current.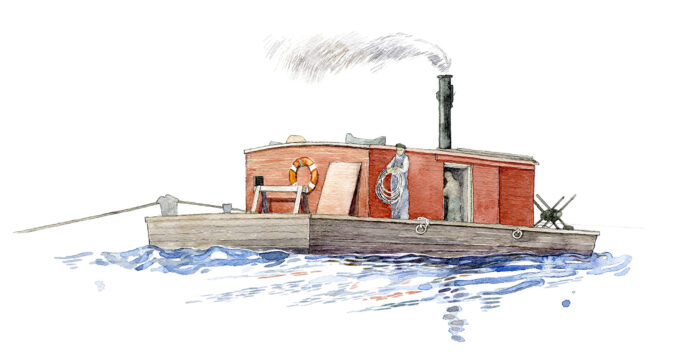 Logging was a round-the-clock summer job and an important livelihood for local people and for the timber industry. In spring, as the sun melted the snow and ice, preparations for the summer rafting began. The tar pots were boiled to give the boats and the log raft "röllä" a new tar layer. When the fairway opened, the first logs to enter the fairway were those that had been stored and collected along the fairway, until the logs from Lake Saimaa reached Käyrälampi and the summer timber rafting season was in full swing.
The water route consisted of rapids, rivers, stream pools and lakes. Important natural forces to bear in mind were wind direction and water flow. The rafting route was controlled and limited by e.g. with various booms, bollards, gates and dams. Sometimes when the headwind was strong, work was interrupted and people resumed work at night as the wind subsided.
Winter interrupted the timber rafting season when ice closed the channels. But even then, winter was a good time to make repairs on the ice.
Timber rafting's relevance waned towards the end of the 1960s, as road transport and railways began to replace water transport.
Everyone's rights
Although ice fishing and angling are part of everyone's rights (formerly everyman's rights), special fishing areas are an exception to this. Jyräänjoki special fishing area has its own fishing license. It entitles the license holder to fly, lure and rod fishing.
Naturally occurring fish life in River Jyräänjoki is diverse. In addition, trout, grayling and rainbow trout have been introduced in the river.